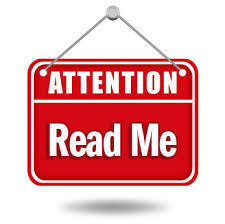 Lead Academy Weekly News 11-24
Chase Willingham
Sunday, November 24, 2019
Lead Academy Weekly News 11-24-19
Thank you!
As we head into a fall break where many of us will be celebrating Thanksgiving, we wanted to say thank you to all of our amazing Lead families. You guys always show support to teachers, students and staff in a variety of ways. We couldn't do all we do without you. We are very thankful and appreciative of everyone that has a part in Lead Academy. We hope everyone enjoys some rest and relaxation and is able to spend some time with family and friends.
Scholastic Book Fair
Tomorrow is the last day of our school Book Fair! You may view the class visit schedule on the Book Fair calendar on our homepage. We will also be open during lunch hours for students.
You can continue to shop our online fair through Tuesday.
Visit Our Book Fair Homepage for the online shopping link and the calendar.
Lost and Found
The lost and found is overflowing with items. Please come and check for lost Items. Any items remaining on December 1st without a name in the item will be donated to local charity.
Uniform Store
The online uniform store is open now until December 1st @ 11:59 pm. Use the link below to place your order. https://323sports.com/MGBE-6W7A/ Remember the RED long-sleeve shirts are for grades K5-4th and the BLACK long-sleeve shirts are for grades 5th-8th. Longsleeve shirts may be used throughout the week.
Jackets
Just a reminder that only Lead Academy jackets may be worn inside the building. Students may wear any jacket outside. If you need to purchase a jacket, please contact Mrs. Steadman.
Cold Weather
Our policy for outside play during cold times is 40 degrees. It must be 40 or above for students to go outside for classes or recess.
School Fees and Balances
As a charter school, we operate off a very tight budget and every dollar counts. We maximize every dollar to have direct impact on students. With that said, it is very important that all school fees and lunch balances are taken care of in a timely fashion. Notices are sent home frequently as a reminder. Currently, any student with a negative balance of more than $50 will have all money turned into the front office (field trips, events, and other fees) applied directly to that debt first per board policy. Our board is also working on an updated debt policy which will be published in October. Anytime you need assistance or a payment plan, please reach out to us and we will work something out. If you have questions, please let us know.
New App!
LEAD Academy has a new app! Find sports scores, menus, and news updates. Download on Android: http://bit.ly/2YacBnc or iPhone: https://apple.co/2YdqEIO. The app contains forms to submit a parent excuse for an absence as well as a safety form to report any issues relating to bullying or safety.
2019-2020 School Calendar
View the 2019-2020 calendar here: https://drive.google.com/open?...
Student Dress Code
Please read the 19-20 Dress Code here: https://core-docs.s3.amazonaws.com/documents/asset/uploaded_file/428336/19-20_Student_Dress_Code_Policy.pdf
No major changes have been made.
19-20 Student Handbook
This year's handbook can be located here: https://core-docs.s3.amazonaws.com/documents/asset/uploaded_file/428334/19-20_Student_Parent_Handbook.docx
Important Upcoming Dates
11/27-11/29- Fall Break
12/6- Fun Friday
12/10- 2nd Quarter Progress Reports
12/16-12/20- Spirit Week
12/23-1/3- Winter Break