Hey Lead Academy, Our school uniform store has been extended until June 28th. If you need to upgrade or purchase a new uniform for next school year, please click the link for all your Lead uniform needs. Uniforms are required for all students at lead academy. K5 – 4th grade students wear RED t-shirts each day and 5th – 8th grade students wear GRAY t-shirts each day.
https://www.myleadacademy.com/page/2021-2022-school-uniform
Uniforms will be delivered to the school and notification via our school app and FB will be sent when they are ready for pick-up.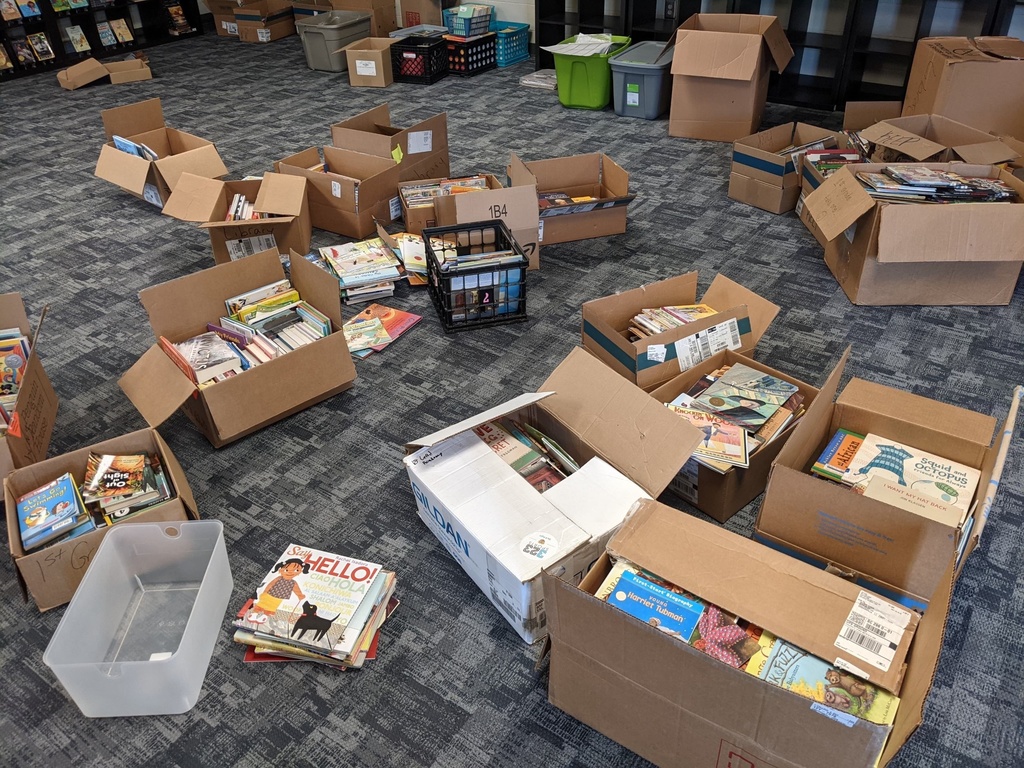 The Lead Academy Board of Directors would like to congratulate and welcome two new board members for the 2021-22 school year. Courtney Burnett and Sunny Broadus received the two highest totals in our recent election and will now serve on our Board of Directors. We would like to thank all the families and staff members who took the time to vote in the election as well as all of the parents who were willing to serve on the Board of Directors. While we can only elect two new board members at this time, we encourage interested parents to apply for future spots that may become available.



Just a reminder that board voting closes on May 20th. If you have not voted, please visit the front office to get a ballot and cast your vote. Each family gets one vote per student. Votes must be received or post marked by 4:00pm May 20th.

Good Afternoon Lead Families, Next week we will begin state testing for grades 3-8. Here are a few reminders: -Parents be sure students are well rested and receive a good breakfast each day. -Students that are testing, please remember to bring your chrome book and it is fully charged. -If you have chosen to opt out of testing, you will participate in virtual instruction from home each testing day. Please let me know if you have any questions or concerns.

Hey Lead Families Update on School Masks: DHEC has created an opt-out waiver for school masks. A link to the DHEC form allowing parents to opt-out of the Lead Academy mask policy will be posted on our website and attached here. The opt-out will take effect tomorrow if the signed/completed form is returned to school by students, dropped off in the front office by parents, or submitted to the principal electronically. Parents Concerned About Removal of Mask Mandate: Students whose families do not want their children to attend school due to these changes can choose to continue into the virtual instruction at this point. Parents can contact the front office to submit a request. Employees Because teachers and staff were in the original mask mandate that has now been rescinded, this new guidance applies to them as well. All staff who choose to opt out must sign the DHEC waiver for our records.
https://scdhec.gov/sites/default/files/Library/D-4286.pdf?fbclid=IwAR2Ss9aYmWDbuCC8LTZKQsVf27I0QkZSsl4mDrZ6_S1tvFIUusCR7c6wr1w
Please let me know if you have any questions or concerns. Hola familias de Lead Actualización sobre máscaras escolares: DHEC ha creado una forma de exclusión voluntaria para las máscaras escolares. Un enlace a la forma DHEC permitiendo a los padres de exclusión de la política de máscara de Lead Academia será publicada en nuestra página web y se adjunta aquí. La opción de exclusión tendrá efecto mañana si el formulario es entregado a la escuela por los estudiantes, dejado en la oficina por los padres, o enviado al director electrónicamente. Padres preocupados por el mandato de retirar la mascarilla: Los estudiantes cuyas familias no quieren que sus hijos asistan a la escuela debido a estos cambios pueden optar por continuar con la instrucción virtual en este momento. Los padres pueden comunicarse con la oficina para enviar una solicitud. Empleados Debido a que los maestros y el personal estaban en el mandato de máscara original que ahora ha sido rescindido, esta nueva guía también se aplica a ellos. Todo el personal que opte por no participar debe firmar la exención de DHEC para nuestros registros.
https://scdhec.gov/sites/default/files/Library/D-4286.pdf?fbclid=IwAR2Ss9aYmWDbuCC8LTZKQsVf27I0QkZSsl4mDrZ6_S1tvFIUusCR7c6wr1w
Hágame saber si tiene alguna pregunta o inquietud.

Dear Lead Academy Families, The Governor issued an executive order late yesterday that directs DHEC and the State Department of Education to provide an opt-out form for parents who do not want their children to wear masks at schools. Neither DHEC nor the State Department of Education has provided an opt-out form or a timeline for implementation. As a result, students are still required by the State Department of Education to wear a facial covering on buses and when entering and leaving schools. Additionally, Lead Academy will continue to follow DHEC guidelines that call for facial coverings whenever six feet of social distance cannot be maintained. We will update you in the future if things change. Please let me know if you have any questions or concerns. Estimadas familias de Lead Academy: El gobernador emitió una orden ejecutiva ayer por la noche que ordena a DHEC y al Departamento de Educación del Estado que proporcionen un formulario de exclusión voluntaria para los padres que no quieren que sus hijos usen máscaras en las escuelas. Ni DHEC ni el Departamento de Educación del Estado han proporcionado un formulario de exclusión voluntaria o un cronograma para la implementación. Como resultado, el Departamento de Educación del Estado todavía requiere que los estudiantes usen una cubierta facial en los autobuses y al entrar y salir de las escuelas. Lead Academy continuará siguiendo las reglas de DHEC que exigen cubrimientos faciales si no se pueda mantener una distancia social de seis (6) pies. Le informaremos si las cosas cambian. Porfavor hágame saber si tiene alguna pregunta o inquietud.
To explore and study more about success, 5th graders were able to visit the karate school of Marty Knight. Mr. Knight has been a mentor to Mr. Lindley throughout his life and taught students some of the same valuable lessons today. Students were able to learn more about his history, challenges, triumphs, self defense, etc.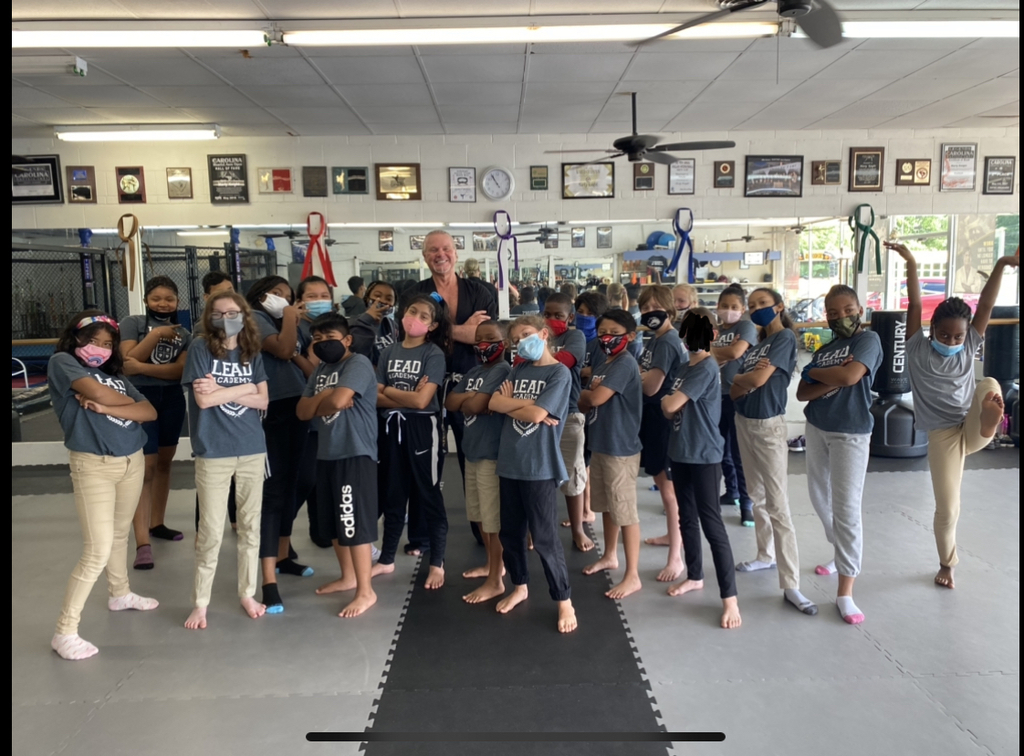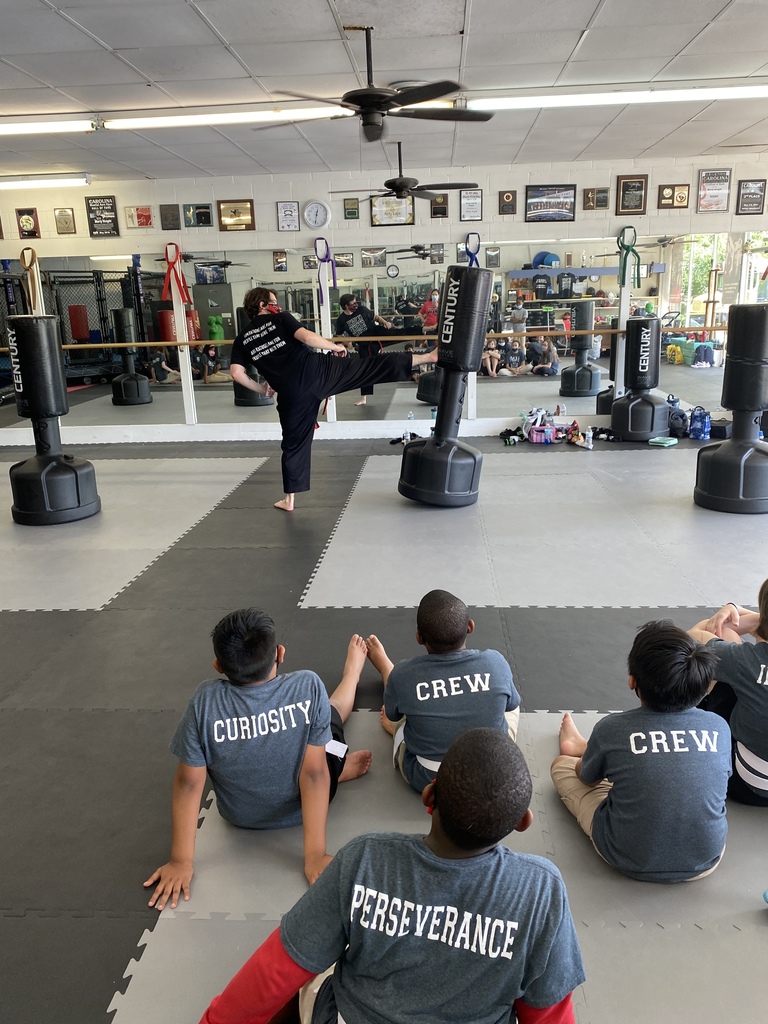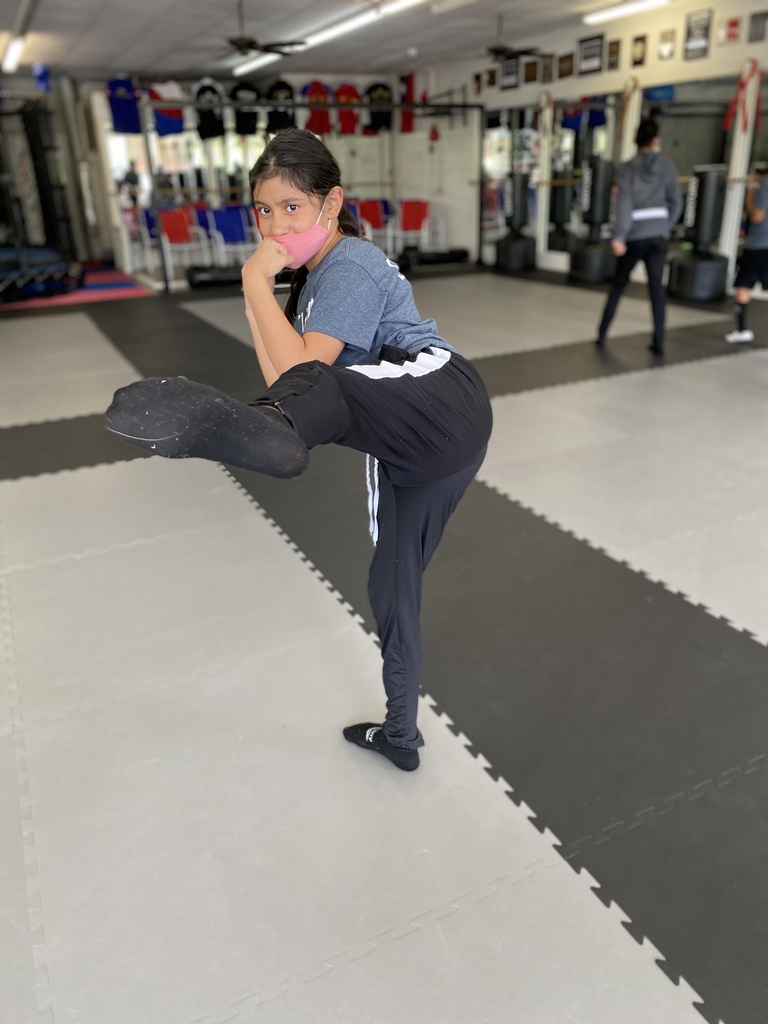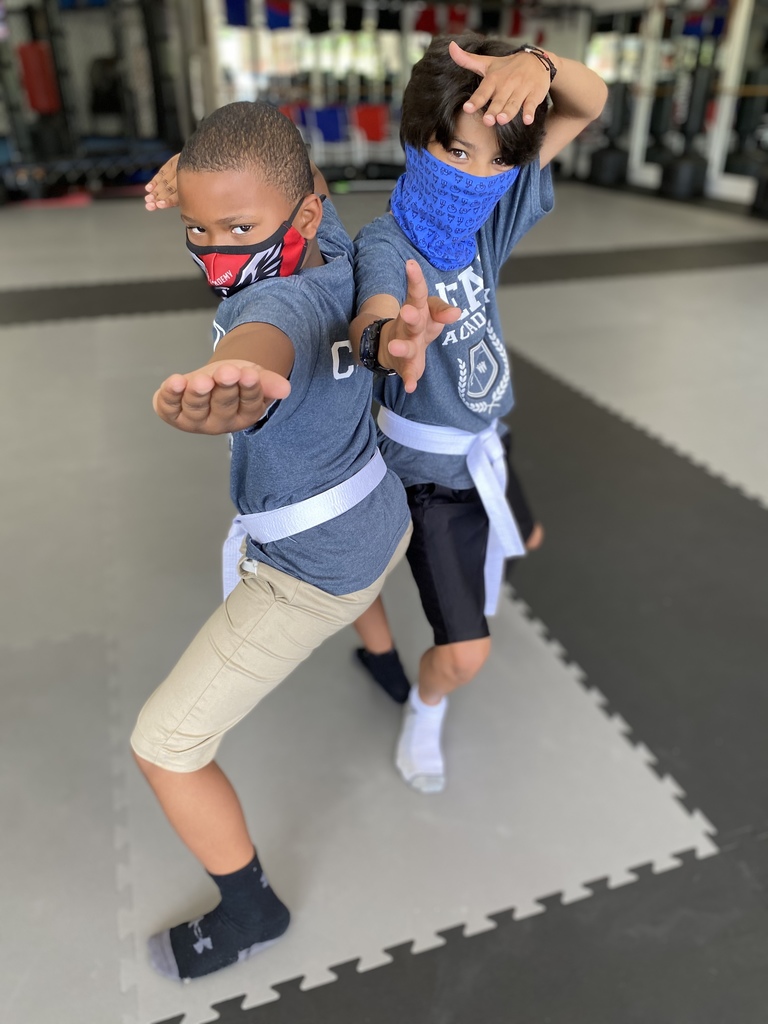 It is now time to elect two new board members for 21-22. Board Ballots will be sent home tomorrow for each family to vote. Each family receives one vote per student. If you are a fully virtual family and do not receive a printed ballot, please stop by the front office to retrieve a paper ballot to cast your vote. Thanks!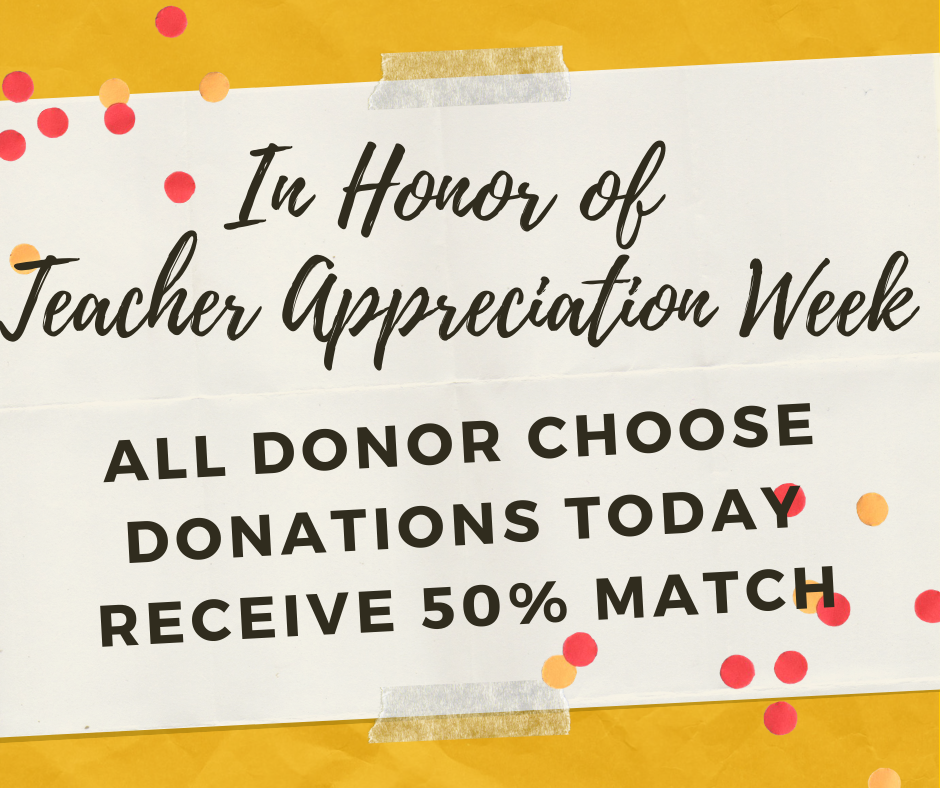 Thanks for all the love you have shown to our teachers! Through the generous donations to our last Donor's Choose Project, we were able to get some really nice new books for our Kindergarten students. We have a bunch more projects we are about to post. If you donate on Tuesday of next week, there is a 50% match in honor of Teacher Appreciation Week. We are excited about what our teachers are coming up with to jazz up next school year for our students.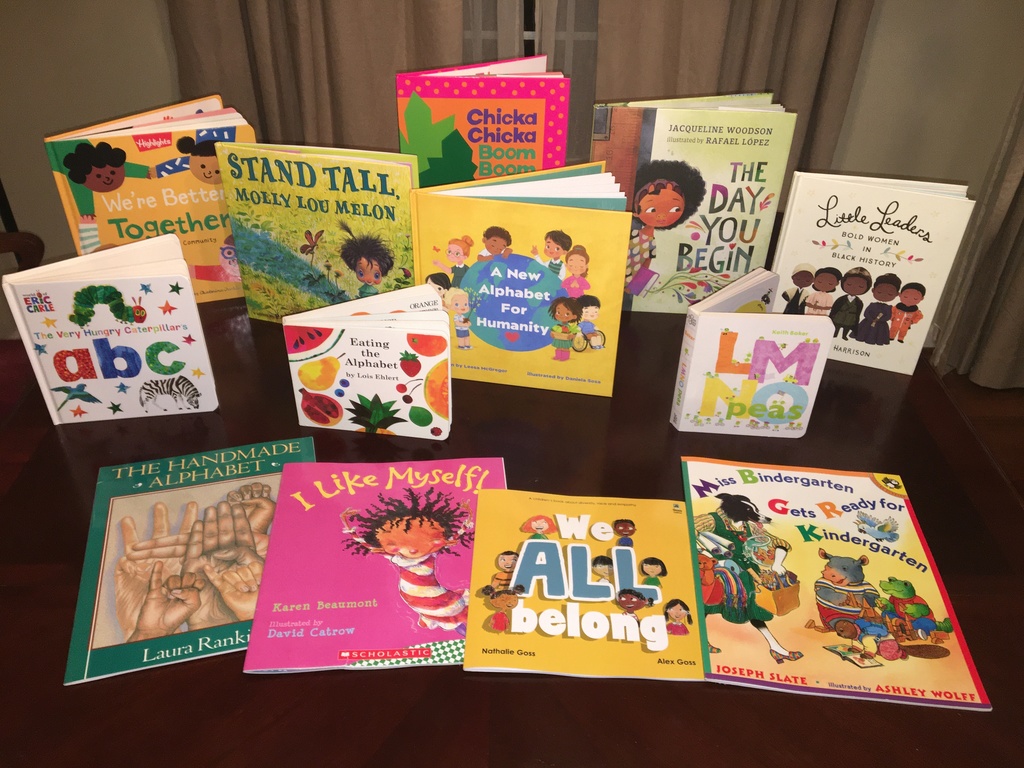 Dear Lead Family, As this year comes to a close, we wanted to communicate a few changes to the attendance structure for next year. We know that these decisions have a great impact on the day-to-day lives of our families. For that reason, we wanted to communicate these changes. Those changes are outlined here and are explained in greater detail below: Lead will return to a normal attendance model for next year with students in the building. There will be no virtual option The school day will begin at 7:45am and end at 3:15pm Attendance Model Beginning on August 16, 2021, our first day of classes for students, all Lead students will be in the building for complete in-person instruction five days a week. As we found this year, changes are likely to take place depending on recommendations and legal requirements. Although we will always comply with those regulations, we plan for next year to return to some form of normalcy, at least in our attendance model. No Virtual Option We have been extremely proud of the virtual experience that we were able to provide to our students during the current year. We received lots of positive feedback and support and were overjoyed by our amazing teaching staff's ability to continue to create a sense of community and crew while on a computer screen. Unfortunately, with a return to a normal attendance model, we won't have the resources needed to continue to provide the virtual option with the quality that we were able to this year. For this reason and in service to our students, we will bring the virtual option to an end at the end of the school year. The School Day As we return to a normal attendance model, we will also return to a full day of instruction. During the hybrid models, we shortened the day to make other accommodations. Those accommodations will no longer be needed once we're all back to a normal schedule. Because of a few other academic and cultural implications, our school day will now begin at 7:45am and dismissal will begin at 3:15pm. Please communicate any questions that you may have. As always, we appreciate all of the support that we've felt during this challenging year. We hope that as we return to normalcy in some areas, we are able to continue to build learners and leaders dedicated to creating change in their communities. Estimada familia de LEAD: A medida que este año llega a su fin, queríamos comunicar algunos cambios en la estructura de asistencia para el próximo año. Sabemos que estas decisiones tienen un gran impacto en la vida de nuestras familias. Por esa razón, queríamos comunicar estos cambios. Estos cambios se describen aquí y se explican con mayor detalle a continuación: Lead regresará a un modelo de asistencia normal para el próximo año con los estudiantes en el edificio. No habrá opción virtual El día escolar comenzará a las 7:45 am y terminará a las 3:15 pm Modelo de asistencia A partir del 16 de agosto de 2021, nuestro primer día de clases para los estudiantes, todos los estudiantes líderes estarán en el edificio para recibir instrucción completa en persona cinco días a la semana. Como descubrimos este año, es probable que se produzcan cambios en función de las recomendaciones y los requisitos legales. Aunque siempre cumpliremos con esas regulaciones, planeamos para el próximo año volver a alguna forma de normalidad, al menos en nuestro modelo de asistencia. Sin opción virtual Estamos extremadamente orgullosos de la experiencia virtual que pudimos brindar a nuestros estudiantes durante el año en curso. Recibimos muchos comentarios positivos y apoyo, y nos alegró mucho la increíble capacidad de nuestro personal docente para continuar creando un sentido de comunidad y equipo mientras estamos en una pantalla de computadora. Desafortunadamente, con el regreso a un modelo de asistencia normal, no tendremos los recursos necesarios para continuar brindando la opción virtual con la calidad que pudimos brindar este año. Por ello y al servicio de nuestros alumnos, finalizaremos la opción virtual al final del curso escolar. El día de escuela Al regresar a un modelo de asistencia normal, también regresaremos a un día completo de instrucción. Durante los modelos híbridos, acortamos el día para hacer otras adaptaciones. Esas adaptaciones ya no serán necesarias una vez que todos volvamos a un horario normal. Debido a algunas otras implicaciones académicas y culturales, nuestro día escolar ahora comenzará a las 7:45 am y la salida comenzará a las 3:15 pm. Por favor comunique cualquier pregunta que pueda tener. Como siempre, agradecemos todo el apoyo que hemos sentido durante este año desafiante. Esperamos que a medida que regresemos a la normalidad en algunas áreas, podamos continuar formando aprendices y líderes dedicados a generar cambios en sus comunidades.

Parents, just a reminder to please fill out this survey as soon as possible if you have not already for all students in grades 3-8. Padres, solo un recordatorio para que completen esta encuesta lo antes posible si aún no lo ha hecho para todos los estudiantes en los grados 3-8.
https://forms.gle/g9VsskUq8wUAbrnR6

Good evening Lead Families, I hope everyone enjoyed the weekend. Here are a few updates as we enter the coming week. -Students in all grades will begin the five-day schedule Monday, May 3rd. -Students who signed up through our virtual/hybrid waitlist will begin in-person instruction five days a week on Monday, May 3rd. -Our virtual option will remain in place for virtual students until the end of the school year. Please let me know if you have any questions or concerns. Thanks,

Buenos Dias padres, Gracias por su paciencia mientras nos preparamos para cumplir con la nueva legislación. Aquí hay algunas actualizaciones: -Los grados 3, 6, 7 y 8 pasarán a nuestro horario de 5 días a la semana, incluidos los miércoles. Este cambio comenzará el lunes, 3 de Mayo. -Los estudiantes que solicitaron estar en persona 5 días a la semana a través de nuestra lista de espera comenzarán el lunes 3 de mayo. -Nuestra instrucción virtual seguirá vigente hasta el final de este año escolar. Las familias que son completamente virtuales todavía tendrán esa opción hasta el final del año escolar actual. Gracias por su continuo apoyo mientras continuamos haciendo todo lo que está bajo nuestro control para brindar el mejor ambiente posible para el aprendizaje de los estudiantes.

Good Morning Parents, Thank you for your patience as we have been making preparations to comply with the new legislation. Here are a few updates: -Grades 3, 6, 7, and 8 will move to our 5 day a week schedule including Wednesdays. This change will begin Monday, May 3rd. -Students who requested to be in-person 5 days a week through our waitlist will begin on Monday, May 3rd. -Our virtual instruction will still be in place until the end of this school year. Families who are fully virtual will still have that option until the end of the current school year. Thank you for your continued support as we continue to do everything in our control to provide the best possible environment for student learning.