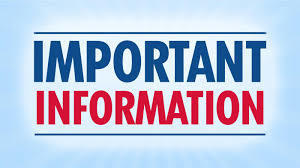 Lead Academy Weekly News 10-6-19
Chase Willingham
Sunday, October 06, 2019
Weekly Update 10/6/19
Teacher Workdays
Please note that we have two teacher workdays on Thursday, October 17th and Friday, October 18th. These are different than Greenville County so please plan accordingly.
School Fees and Balances
As a charter school, we operate off a very tight budget and every dollar counts. We maximize every dollar to have direct impact on students. With that said, it is very important that all school fees and lunch balances are taken care of in a timely fashion. Notices are sent home frequently as a reminder. Currently, any student with a negative balance of more than $50 will have all money turned into the front office (field trips, events, and other fees) applied directly to that debt first per board policy. Our board is also working on an updated debt policy which will be published in October. Anytime you need assistance or a payment plan, please reach out to us and we will work something out. If you have questions, please let us know.
Fall Festival
Fall Festival is THIS Friday, October 11th at Conestee Park from 5:30pm - 7:30pm. Come out and join us for: Inflatable Jousting Competition, Giant Slide, Pumpkin Bowling, Cookie Decorating, 50/50 Raffle, Pie Eating Contest, Face Painting, Neely'Q BBQ, Kona Ice, and MORE. Free admission. Tickets will be sold on-site for games and activities. Please remember this is a family event and students should be accompanied by an adult. We are in need of several additional volunteers. Please use this link Fall Festival Volunteer to sign-up. We also need donations of cans of colored hairspray and 2-liter sodas. These donations can be dropped off at the school at any time.
Chili Cook-off
Earn bragging rights in our 5th annual Chili Cook-off at the Fall Festival! $5 entry fee. 1st place prize. Entry forms are available in the front office or here: Chili Cook-off Entry (English) Chili Cook-off Entry (Spanish) or by signing up online.
Thank you so much for your support of our fundraiser!
Orders will arrive on Wednesday, October 16th. All items must be picked up on this day. There are frozen products and we want to make sure they all get picked up since we don't have refrigeration space available to store orders. Look more information in next week's newsletter.
We will be contacting student families who qualify for the Party Limo Experience once we secure the date for the experience.
Updates from the Health Room
The Nurses Office will NO longer be stocking Tylenol, Ibuprofen or Tums. If your student needs to receive these medications, you will have to have to fill out a form to have the medication available for them. Forms are available in the Nurse's office. Once the form is filled out, parents must bring the medication in the original box, and the form to the nurses office. Students are NOT allowed to bring them in.
Nut Free School!
Just a reminder, we are a nut free campus. To read more about our policy, click here.
Gears is Hiring!
Gears Youth Services is currently hiring part time workers (15-20 hours per week). If interested, contact Gears via email at gearsyouth@yahoo.com.
New App!
LEAD Academy has a new app! Find sports scores, menus, and news updates. Download on Android: http://bit.ly/2YacBnc or iPhone: https://apple.co/2YdqEIO. The app contains forms to submit a parent excuse for an absence as well as a safety form to report any issues relating to bullying or safety.
2019-2020 School Calendar
View the 2019-2020 calendar here: https://drive.google.com/open?...
Student Dress Code
Please read the 19-20 Dress Code here: https://core-docs.s3.amazonaws.com/documents/asset/uploaded_file/428336/19-20_Student_Dress_Code_Policy.pdf
No major changes have been made.
19-20 Student Handbook
This year's handbook can be located here: https://core-docs.s3.amazonaws.com/documents/asset/uploaded_file/428334/19-20_Student_Parent_Handbook.docx
School Fees and Paperwork
Please remember that all outstanding fees and paperwork must be completed before students will be able to receive their chromebooks (grades 4-8).
Important Upcoming Dates
10/11- Fun Friday
10/11- Fall Festival
10/16- Fundraiser Item Pickup
10/17-10/18 No School- Teacher Workdays
10/18- Chuck E Cheese Spirit Night
10/23- End of 1st quarter grading period
10/25- Fall Pictures
10/30- Report Cards