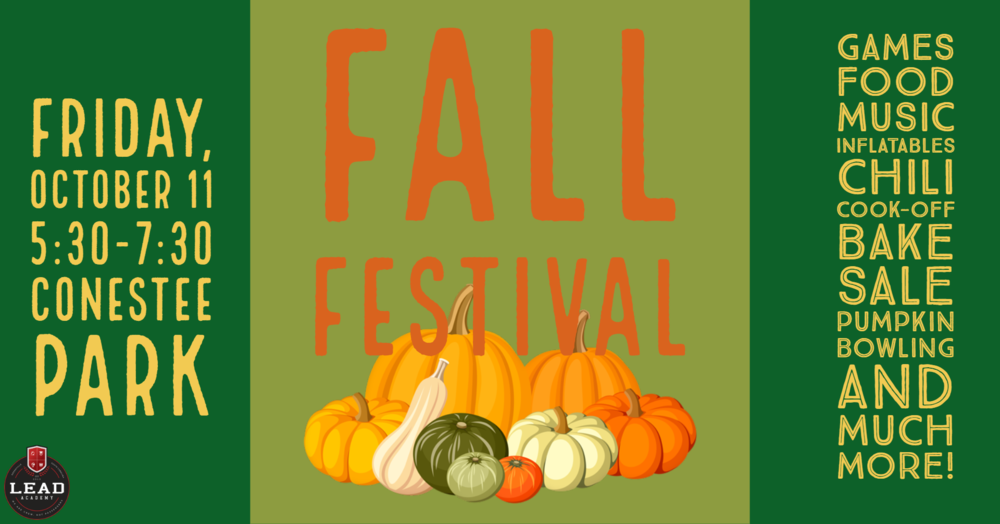 EVERYTHING You Need to Know about Fall Festival 2019
Joanna Espinosa
Friday, October 04, 2019
Fall Festival is only 1 week away! Here are the activities, food, games, event times, and ticket deals. Scroll all the way to the bottom for opportunities to volunteer and make donations.
Inflatables & Games
Jousting arena, Giant Slide, Bounce House, Pumpkin Bowling, Soda Bottle Ring Toss, Golf Driving Game
Activities
Face Painting, Crazy Hair, Tattoo Station, Craft Station, Cookie Decorating
Contests
50/50 Raffle
Only $1 per ticket
Winner announced at 7:15pm
Student vs. Staff Pie Eating Competition
Students choose who they will race against in eating a whip cream pie.
Competition begins at 6:05pm
Chili Cook-off
Earn bragging rights in our 5th annual Chili Cook-off at the Fall Festival! Bowls will be sold for $1 beginning at 6pm.
$5 entry fee. 1st place prize.
Entry forms are available in the front office or here: Chili Cook-off Entry (English) Chili Cook-off Entry (Spanish) or by signing up online.
Entry forms need to be received by Wednesday, October 9th
Crock pots of Chili should be at the Festival by 5:30pm
Judging begins at 5:45pm
Winner announced at 6pm
Food
Neely'Q Barbecue
Kona Ice
Beta Club Bake Sale
Tickets
All tickets are 50 cents
Buy a bag of 30 tickets for $15 and get 5 tickets FREE!
Volunteers and Donations
Volunteers are still needed to assist with games, inflatables, and other areas. Please click here to sign-up.
Donations of 2-liter sodas and cans of colored hairspray may be dropped off at school
Other donations are needed. Please contact Joanna Espinosa if you would like to contribute.